Gift Annuity Rate Update and Laminated Gift Annuity Rate Charts.....If you would like a laminated rate chart for the most recent ACGA rates simply request one using the following E-mail request and put Laminated Chart in the subject line and be sure your signature line has your full address.
Download a PDF chart of single life $10,000 cash gift and two-life $100,000 security gift for ages 60,65,70,75,80 here.
_______________________________________________________________________________________
3 Ways Life Insurance Can Benefit a Charity You Love.....by: Marvin H. Feldman, CLU, ChFC, RFC, President and CEO of Life Happens
Would you like to make a charitable gift to help organizations or people in need; to support a specific cause; for recognition such as a naming opportunity at a school or university? Perhaps you would do it just for the tax incentives. There are any number of reasons, and life insurance can be one of the most efficient tools to achieve these purposes. So the question becomes, how does this work?
Let me list the ways.
1. Make a charity the beneficiary of an existing policy. Perhaps you have a policy you no longer need. Make the charity the beneficiary, and the policy will not be included in your estate at your death. This also allows you to retain control of both the cash value and the named beneficiary. If you want or need to change the charity named as beneficiary, you can.
2. Make a charity both the owner and beneficiary of an existing policy. This gives you both a current tax deduction along with removing the policy from your estate. Once you gift the policy, you no longer have any control over the values.
3. Purchase a new policy on your life. Life insurance is an extremely efficient way to provide a large future legacy to a charity in your name without needing to write the large checks now. The premiums are given directly to the charity which then pays the premiums on the policy. The charity also owns the cash value as an asset. I am using this concept in my own planning.
Many charities would prefer to have their money upfront, but if you cannot write that large check or don't want to part with your cash today, a gift of life insurance is a most efficient method to leave a large legacy in your name.
Source: http://www.lifehappens.org/blog/3-ways-life-insurance-can-benefit-a-charity-you-love/
______________________________________________________________________________________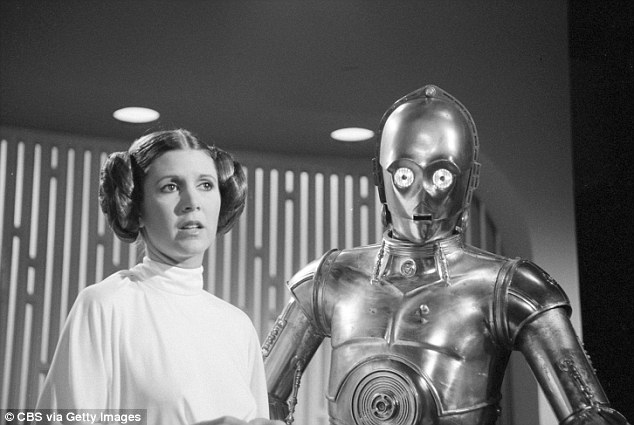 Disney is set to receive £41million ($50 million)......over Star Wars actress Carrie Fisher's untimely death after taking out insurance to cover her failing to fulfill a three-film contract.
Fisher died on December 27, aged 60, having suffered a heart attack on a flight from London to Los Angeles. The ensuing insurance payout is thought to be the market's biggest-ever single personal accident insurance claim, according to trade publication The Insurance Insider.
Fisher is set to have major role in Star Wars Episode VIII, which will be released next year(2018), with filming completed before her death. However, Fisher was also due to have a starring part in Star Wars Episode XI – scheduled for release in 2019 – which is now expected to be substantially re-written in the wake of the actress' death.
____________________________________________________________________________________
Estate Planning Organization.....Where's Your Prospect's Stuff?.....When you visit prospects di you ever wonder if there estate plan is organized in a haphazard manner?
Even if they seem well prepared they still need to let their loved ones know where all the important documents are located. That includes estate planning documents like a will and any trusts; financial documents (like investment statements, insurance policies, bank accounts, pensions and retirement accounts), and legal documents (such as the title to a home, vehicles and any other property).
Have they made a detailed record of important documents and assets and important professional contacts including their doctor, banker, financial advisor, insurance agent, clergy and estate planning attorney. A useful tool is my Family Document Locator form.
In addition encourage prospects to have a file of the following:
1. The type of funeral arrangements you have made or would like made;
2. A list of the items in safe deposit boxes, in safes and in any other locked or hidden away places;
3. The combinations and location of keys to any of your secure storage spaces;
4. A family history; and the location of photographs, heirlooms, and other irreplaceable items.
Regardless the storage medium one chooses, store it in a safe place. For example, if you go the notebook route, consider keeping it and all of the important documents in a fireproof metal box or home safe. The second part of this task is to be sure you tell key individuals about your new records. This list should include your estate planning attorney, your designated executor or trustee and your loved ones. After all, your family members are the most important people in your prospects life. Do not delay!
_______________________________________________________________________________
Quiz Answer.....THE LONG-TERM AVERAGE - The S&P 500 stock index has gained an average of +10.2% per year (total return) over the last 50 years (i.e., the years 1967-2016). The index has been positive for the last 8 years (9 consecutive "up" years is the all-time record for the S&P 500) and 13 of the last 14 calendar years. The S&P 500 has been up during 40 of the last 50 years, i.e., 80% of the time (source: BTN Research).
_______________________________________________________________________________
Are you a good closer?.....Have you spent considerable time with a prospect only to have the decision to move forward blocked by some hidden objection? Perhaps it may be your appraoch to closing the order. Consider the following closed end questions as helpful hints for moving prospects to donors.
1. Are you ready to address the estate planning suggestion we discussed?
2. Are you comfortable enough with my recommendations on how to proceed?
3. What do you think? Can we proceed with the gift annuity (insert option) to increase your income and decrease your taxes?
4. Can you see yourself benefiting from the charitable trust (insert option) I outlined?
5. I want to help you move forward. I need the go ahead from you to consult with your advisor.
______________________________________________________________________________________
News and Notes....(returns next issue)
_________________________________________________________________________________________